Personal Help
Private - confidential - goal oriented - I am there for you!
Greetings!
I am glad to give you my personal attention. I truly love what I do and do it conscientiously. I have the training and experience to help you with a wide variety of problems. I follow the ethical principles of the American Psychological Association and eagerly share with you all my knowledge and skills.
Everyone experiences difficulties which we may not be prepared to deal with. As a professional, I offer you my objective insight, suggestions, and tools to help you deal with your situation most effectively.
Just gaining an external, objective perspective from a professional like me is a worthwhile experience. Even the most intelligent and experienced individuals gain help when they escape their limited subjective perspective and "see" other points of view.
As a psychologist, I have large tool box from which I offer you a variety of valuable tools to remove obstacles and promote progress. Whether you want to get rid of bad feelings or overcome limitations, or increase your abilities, I have the expertise to help you reach those goals more easily. Psychotherapy is the process of increasing your understanding of what is going on and developing special skills to deal with the situation more effectively. In general, this is a process of personal development, or it may also be a matter of healing, or resolving conflicts that limit you. Very often, it is our own negativity that holds us back. We tend to create self sabotage, becoming overly critical or negative that slows our progress down.
Whatever the problem is, when you decide to call someone and work on it, you have already made progress. With my personal help, I assure you that you will feel better, stronger, and more prepared to deal with the issues.
Give my office a call and let's talk about it. The telephone consult is FREE and I will offer you the information you need to make a decision about what to do. If you have insurance, it is possible that they will pay for my services.
Call the office 212 - 686-5758

For more information and to schedule an appointment click here: http://www.johnryderphd.com/info.php
Surf around this website - you will find plenty of valuable information about my work and how to make your life easier.
Read my book and use my FREE online advanced personal development website:
www.TakePositiveDirections.com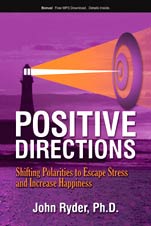 Read my book. It will give you the information you need to keep your life going in positive directions. Order Positive Directions